Case Study: Community Roadway Rehabilitation Project
A failed 14,000 square yard community roadway and parking lot system. The roadway consisted of the original 30+ year old concrete and a failed 2" asphalt overlay. The asphalt overlay was not correctly designed to allow for the proper curb exposure and installation depths. Portions of the original concrete streets showed signs of local failures.
An on site inspection and project design was completed by Cox Pavement Consulting to provide the community with the right project to fit their needs.
The project was bid out to multiple contractors through our project bidding process.
The project was overseen by Cox Pavement Consulting. Daily on site inspections, testing, changes to the project direction and daily updates were provided to the board to ensure the project that we designed was the project that the community received.
The failed asphalt overlay was removed and failed areas of the original concrete street were removed and replaced.
The original rolled curb and gutter sections were sawcut, removed and a new rolled curb and gutter was installed. Grades were checked and appropriate changes were made to allow for proper drainage.
New concrete driveway entrance aprons were installed to ensure that the driveway to curb tie in was strong and flowed correctly.
A multi layer installation of asphalt and pavement fabric was installed to provide the best protection from the concrete joints reflecting through the new pavement and a long pavement life.
Additionally the project included crack sealing and sealcoating for areas of stable asphalt, new concrete sidewalks and ADA upgrades to sidewalks in the right of way.
On site inspections, comprehensive project design and start to finish project management. Put Cox Pavement Consulting's 32 years of experience to work for you.
Failed asphalt overlay and exposed rolled curbing.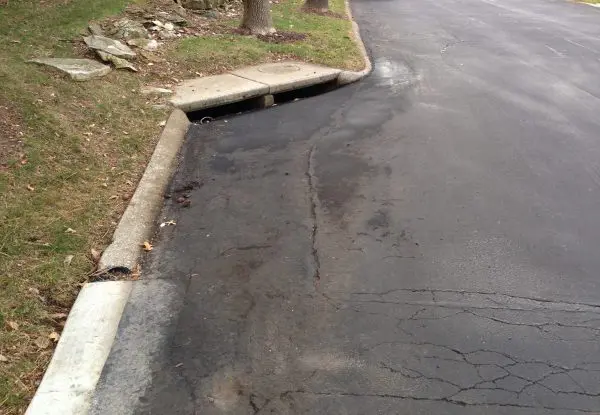 Original concrete slab under asphalt overlay has failed and sunk at local area inlet. Mismatched curbing repair is failing.
Completed roadway section with new rolled curb and gutter, new driveway entrance aprons and new asphalt overlay.
Completed roadway section along with new sidewalks and off street asphalt parking areas.